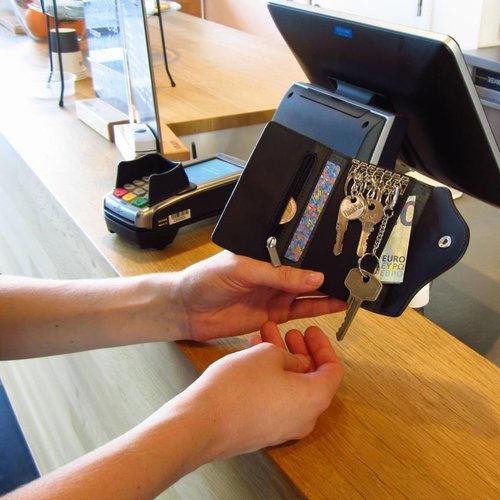 Key Cases

Leather Key Cases
Su.B key cases are made with top quality leather to ensure that you have a strong and durable product. Each model has its unique design and purpose. There is certainly one that fits your own needs and style!
Tulip Casual Key Case
The Tulip Casual key case is an excellent option to organise your keys. It has 6 key hooks and, thanks to its unique long chain design and outer pocket, you will have your most used key always within reach. This key map also features a zippered coin pocket.
Venlo Key Wallet
The Venlo Key Case is practical alternative to organise both your house keys, car keys, cards, banknotes and coins. It features 2 large key rings with long chain, one main compartment and 1 outer compartment with zipper.
CN Car Key Case
Our CN Car Key Case is specially designed for the organising of your home keys, with a special compartment for your car key and 6 additional key hooks. This key holder also features an additional compartment for bankcards or bill notes and 1 long chain to keep your frequently used key out of the case.
CN Card Key Case
The CN Card Case is ideal for organising your home and office keys, cards and bills, all in one place. Next to the 6 key hooks, it has 2 special compartments for bills or credit and debit cards. What makes this case very practical is that it features 1 removable ring for the key you use the most, and an external hook to attach it to your belt loop or bag.
Breda Casual Key Pouch
The Breda Casual Key pouch is a compact and functional option to storage your keys, cards, money and small items. This beautiful pouch also functions as a mini wallet; The main compartment is specially designed to fit keys, bills, cards and small items such a lipgloss, hear clip, usb stick etc. The small outer compartment fits small change or receipts. This practical wallet also features 2 large key rings with long chain.
See also our travel wallets, shoulder straps, tube scarfs and cushion covers.